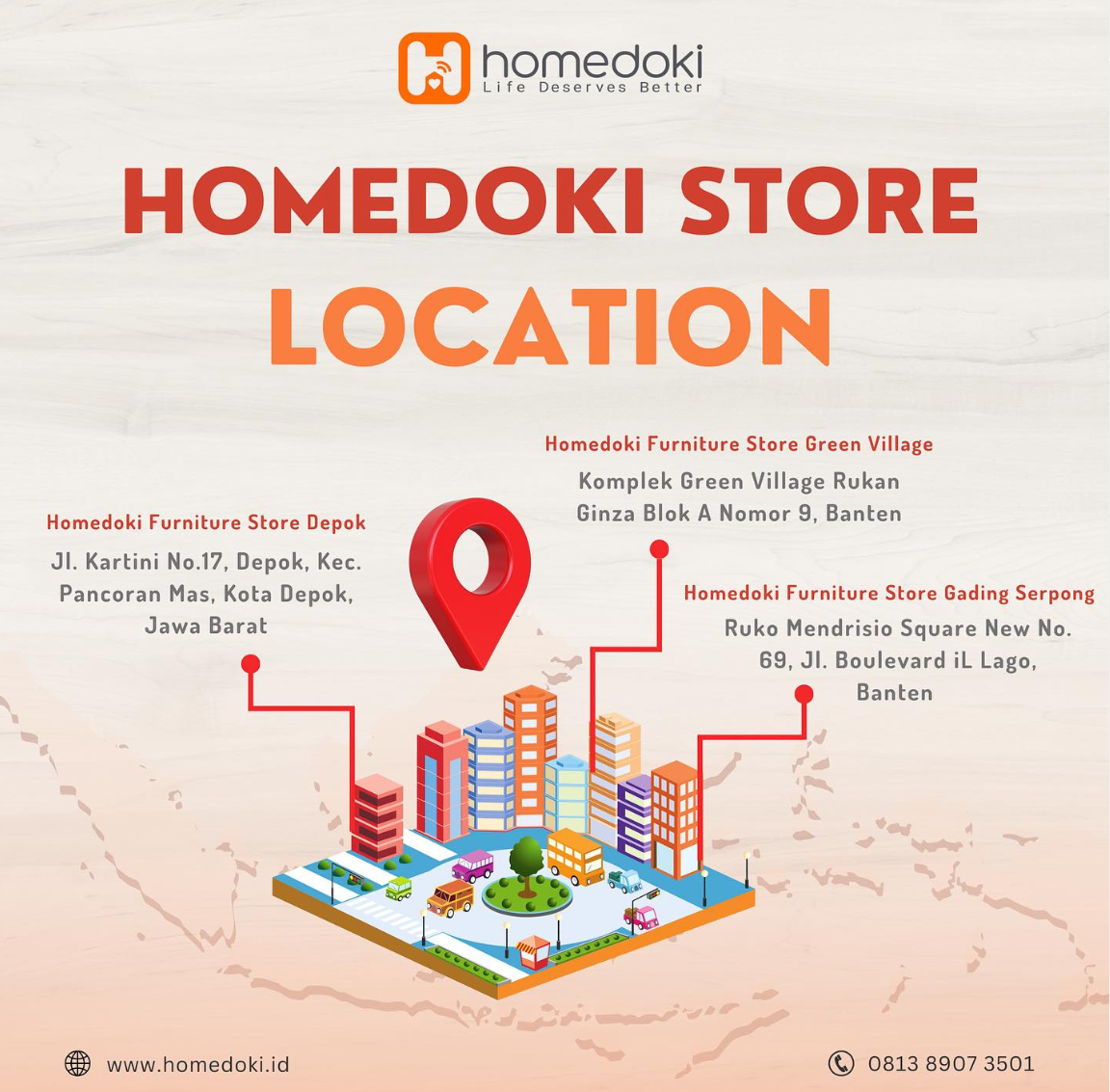 Dedicated To Serve The Market, 3 Homedoki Showrooms Now Available in Greater Jakarta
JAKARTA — After the establishment of online channels, Homedoki has gradually opened offline stores in Jakarta Metropolitan Area or Greater Jakarta (Jabodetabek). Currently, there are already 3 physical stores operating in Tangerang to Depok. Since the first store in Cipondoh, Homedoki has committed to unrolling more physical stores to allow customers to experience the products. Now Homedoki Medan is the next target soon to open.
The reason behind choosing the location is partly due to its strategic location for an emerging business. Well-known as one of the busiest areas that fit the market audience, the routes drastically flourish despite the pandemic strikes and the macro economy stability in Indonesia for the past few years.
The first brick-and-mortar started in Cipondoh; within the Tangerang but around the capital city. The first showroom serves the customers with 4 story building, displaying all furniture categories that Homedoki offers. Continue with the opening in the growing satellite city, Gading Serpong, which is right beside the Tangerang business area and BSD City. And last but not least, located in the West Java province, Depok; is a dynamic city located exactly between Jakarta, Bogor, and Tangerang; and to top it, it fits the market audience.
Every product is guaranteed to be available for each visitor who wishes to buy directly. This allows Homedoki to gather sales according to market behavior, researchers found around 85% of Indonesian consumers have hedonic shopping habits. The finding indicates the market is dominated by the impulsive yet efficient-first type of customers. And Homedoki is here to offer products that are within their economic reach.
The essential goal of Homedoki does not stop at winning online market sales. Besides the achievement and revenue that Homedoki captivated gained, nonetheless, reaching out to the market that has not been penetrated online; which is around 90% of the market is very promising. Competitive tactical play with a different environment this time.
"We realize the prospect within the market in Indonesia, therefore, we have already calculated the risk and the probability to execute this," said the General Manager of Homedoki Indonesia, Henny Herlina. Though it seems easy to dive into the offline market, offline distribution is far more complex than online. 
"Overcoming the disadvantage requires us to sync each department to the store department. From the supply chain to brand development, we will always pay attention to each store's needs and ensure the management always keep in line with the strategy." Henny added.